TECNO's first-ever flip phone, the chic, trendsetting PHANTOM V Flip lets you live your dream life and pocket your memories
The first fashionable flip smartphone under PhP30k
With the stylish and innovative PHANTOM V Flip, live the lifestyle of your dreams and cherish every moment. PHANTOM V Flip is the ideal travel companion whether you're traveling with your pet, enjoying tiny pleasures, discovering new locations, or leading a stylish lifestyle.
The unique, aesthetically pleasing features, design, and seamless performance of the PHANTOM V Flip, the first stylish flip smartphone under PhP30,000, complemented the stylish lifestyle of young fashion trendsetters. It is portable, lightweight, ergonomic, and aesthetically pleasing. Its superb camera records life events from every angle and in full color. The foldable phone has a high-quality, less-creased hinge and fits well in your pocket.
The newest high-end flagship phone from TECNO, a leading global mobile phone company, is the PHANTOM V Flip. It is the first flip smartphone priced under P30,000, with a price tag of P29,999.
Travelers and trend-setters have been using the PHANTOM V Flip since its release in the Philippines, and they are blown away by its excellent performance.
Elevating stylish living with pet advocacy
Photographer and content creator Mark Kelvin does not just capture and tell stories of strangers. He also shares photos of furry pets, just like the cat Kuring, bringing good vibes into the social media world while advocating for animals. For him, pets bring joy and leave a positive impact on our wellbeing. He is right, and his followers flip over Kuring's "cuteness overload" images taken from his PHANTOM V Flip smartphone.
Followers of content creator Show Suzuki are familiar with his pet dog Gonta, the star in his many videos. Gonta also plays a leading role in his life. His pet is instrumental to his healing, according to him. A true love story between a pet and his master, perfectly captured and treasured using the PHANTOM V Flip smartphone.
Content creator Jai Asuncion loves to share snapshots and reels of her life with her viewers, and she found a perfect travel companion with the PHANTOM V Flip. Her vlogs feature her passions – travels and the latest trends. She epitomizes the PHANTOM V Flip's mantra – exploring the best that life could offer, while having fun.
Colz Vidal is deeply and madly in love with traveling and a devotee for endless journeys. Consumed by boundless wanderlust, her PHANTOM V Flip fits perfectly inside her cute, small bag. She generously shares her experiences and adventures with her viewers. She flips over her discoveries. The sheer beauty she sees is preserved in her memories and in her vlogs taken from using PHANTOM V Flip.
An award-winning solo female travel blogger (and also a vlogger) who has been to all seven continents, Aileen Adalid loves that her PHANTOM V Flip lets her seamlessly capture memories and handle work simultaneously. She also loves its stylish design and portability – the chic phone fits in her small shoulder bag, which she brings everywhere she goes. Her videos feature travel guides, resources and tips on traveling the world, as well as a week in her life on the rare occasions she's home.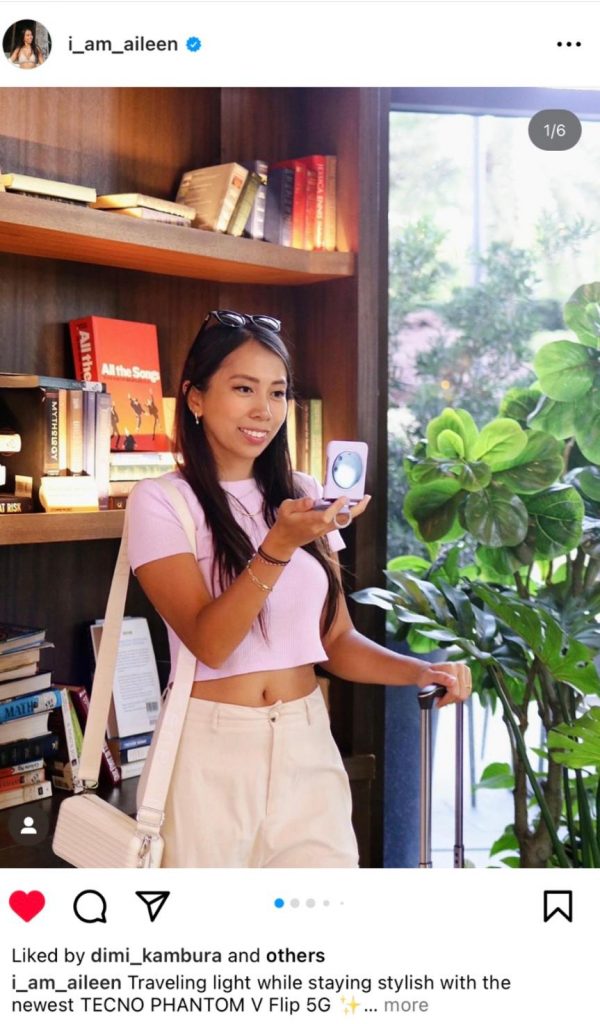 Flip over the PHANTOM V Flip's features
PHANTOM V Flip is the latest innovation from TECNO's "Go Premium" strategy. This global business strategy sets TECNO apart with its focus on building a product range that integrates the most state-of-the-art technologies with unparalleled stylish designs to deliver uniquely premium devices. It is likewise the latest revolutionary smartphone from TECNO's premium sub-brand, PHANTOM, a pioneer in pushing the boundaries of creative and innovative smartphone design.
PHANTOM V Flip is a trendy pocket-sized device that integrates an ultra-clear 5-lens photography system into an exceptional foldable form factor with an optimally sized flagship dual screen. It features a 64MP rear camera and a 32MP front camera. Made of aircraft-grade materials, the self-developed drop shaped hinge is a superbly tight fit for seamless closing while providing a larger screen space and a shallower crease.
PHANTOM V Flip 5G features a 6.9" ultra big, ultra flat, versatile immersive AMOLED main screen that displays true-to-life colors and vivid, realistic hues.
The smartphone also features MediaTek Dimensity 8050, a cutting-edge 6nm 5G chipset that delivers a smooth user experience; an 8GB RAM 256GB ROM that is perfect to fulfill everyday storage needs, while also offering up to 8GB extended memory (RAM).
The Hi-Res Certified Stereo Dual Speakers and improved gaming capabilities round off the excellent performance, making this smartphone a really adaptable and stylish lifestyle choice for gamers, vloggers, and everyday users alike.
The first foldable smartphone available in the Philippine market is the PHANTOM V Flip 5G, which costs PhP29,999. The stylish, innovative foldable gadget is offered at all TECNO Concept Experience Kiosks, TECNO Partner Retail Stores around the country, the TECNO Mobile Store in Lazada, TECNO Mobile PH Official Store in Shopee, TECNO Mobile PH in TikTok Shop, and the TECNO Mobile PH on TikTok Shop. It is also available in Iconic Black and Mystic Dawn hues.
Please send inquiries about connected media to [email protected].